7 Questions To Ask When Building A System For Condition Monitoring
---
Introduction to Condition Monitoring
Condition monitoring is the process of continually measuring the performance of machinery so that faults can be predicted in time and corrective measures initiated. As failures occur within individual components, monitoring the performance of every critical component becomes necessary. This process is generally used to monitor electric motors and IC engines. The underlying logic is simple. Physical measurements of a certain parameter can indicate deterioration early on. Thereafter, any upward trend will indicate a deviation from normal. This is a unique way for businesses to save money that would have otherwise been spent on repair and maintenance. As per a study done by Oneserve, faulty machinery and broken components cost British enterprises more than GBP180bn each year.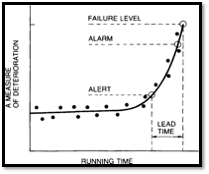 The sample illustration depicts this trend and forewarns machine failure. This monitoring system also indicates buffer time available in hand to rectify the fault. With the advent of the Internet of Things (IoT), measurements have become more accurate and the process much simpler to execute.
Shifting from Breakdown Maintenance to Preventive Maintenance
For organisations working on breakdown maintenance or scheduled maintenance, switching over to preventive maintenance can result in
substantial savings in costs. Sensors and other relevant devices can be hooked onto the machinery that has to be monitored in real-time. Data points can be easily stored, transferred, or analysed within minutes. Plant maintenance techniques have evolved from reactive to proactive methods. Predictive maintenance brings on solid advantages by lowering maintenance costs, maximising output, increasing lifespan, prioritizing tasks, and measuring performance against set KPIs.
The Top 7 Questions when building a system for Condition Monitoring
To derive maximum mileage out of a Condition Monitoring system, it is imperative to deliberate deep and ask insightful questions at the installation stage itself.
What are the different factors affecting the monitoring systems?
Not all factors apply to or affect all systems. Some of the factors affecting monitoring systems depend on the age, size, placement of equipment, cost-benefit ratio of investing in the installation of a monitoring system. If the equipment is to be placed outdoor, the cost and long-term impact on the quality of machinery has to be assessed thoroughly.
Which monitoring systems is the best?
This is a very subjective question and depends on specific situations. For example, will this system be attached to an existing motor set or a brand new one? If it is an existing set, the limitations to plug-in sensors, etc will have to be assessed. If upgrading or scaling up is on the mind, a relevant feasibility study becomes essential. If there is an old monitoring system already in place for some equipment, then the communication protocols between the new and old systems, if needed, will have to be designed.
What is the correlation between condition monitoring and predictive maintenance?
The conventional preventive maintenance method has evolved into predictive maintenance, which is based on the physical operation of the equipment. The rationale behind this is that whereas failure-detection is more like an after-thought, failure-prediction can help avert failure itself and its associated financial losses. Ergo, modern condition monitoring devices are "smart" and arm the operations with tools that collect and apply data analytics techniques and mathematical models to get razor-sharp insights into possible failures.
Which equipment should be monitored and how should the data be utilized?
Implementing this monitoring mechanism on a piece of equipment that is critical to operations is a good bet to start with. Putting a Standard Operating Procedure (SOP) in place to use the data points within the defined Turnaround Times (TAT) is strongly recommended. Testing the system on a lesser-used device is impractical because electronic devices may or may not be compatible with the most important equipment. Checking that compatibility is quintessential. Such practices, unless properly evaluated by governing & regulatory bodies, may result in equipment failure and financial losses.
Is there a source of power supply from the grid?
This is a critical question that needs to be answered as part of the business continuity plan. If there is no source of power supply from the grid, the monitoring system will have to be battery powered. If powered by batteries, there is a definite time frame after which the batteries will have to be recharged. The modalities for recharging the batteries at the place, where power supply is available, will have to be worked out. Moreover, the battery life, replacement plan, and cost involved should be accurately forecasted and included in projections so that the accounts department can provide for the same in their ledgers. The battery disposal mechanism should also be worked out as the reputation of an organization is closely linked to its habits that impact the society and environment.
Internet Connectivity
Most modern smart devices running on IoT will obviously need a reliable connection to the Internet. Else, inter-device
communication, data sourcing, analytics will be difficult and remote monitoring will be impossible. The location of the equipment and monitoring system is also critical. If the equipment is placed outdoor, connection to the Internet may be an impediment. The objective and purpose of installing a smart system will be defeated if a reliable Internet connection is not made available.
System Configuration
The architecture and capability of the system will depend not only on the size of the data to be sourced & analysed but also on the frequency of such evaluations. This is an equally critical question because a system with a lower configuration may struggle to keep up with the demands of the monitoring exercise.
Conclusion
Smart devices and IoT has made it possible to monitor even the traditional behemoth machines at the snap of a finger or push of a button. Data sourcing and analytics, on, equipment performance is lightning fast which helps detect faults early on. However, the kind of monitoring system to be installed will vary from case to case. The right questions at the time of installation can help avert equipment failures and save a substantial amount of money and other resources.
---