Overhead Crane Installation: An Overview
---
Installation of overhead crane: Learn more about the process of installing an overhead crane, including what happens between the moment you sign a purchase order and the time the installers arrive with your crane on their trucks. Whether this is your first crane installation or you've done a few, we hope you can learn something to keep your next project on track, on budget, and your workers safe.
We know how many moving parts and pieces there are during an overhead crane installation because we are one of the leading manufacturers and installers of overhead crane systems.
What Occurs Before Overhead Crane Installation System?
The quotation process is where any particular considerations for an overhead crane installation begin. During this time, the overhead crane installer will look over generic crane equipment designs as well as blueprints or building floor plans to give their best estimate of how long it will take to install an overhead crane in the customer's company.
In the quote, the crane installer will specify a window or time frame in which they believe the crane installation will be completed. This can take anywhere from 2 to 10 working days, with more comprehensive or intricate crane installations taking longer. Once they've brought the cranes, trucks, materials, and all other installation equipment on-site, they won't be able to break up their time or stop and restart the crane installation without significantly increasing the cost of the crane installation.
After receiving a purchase order, the overhead crane manufacturer will begin constructing and erecting the crane, which can take anywhere from 2 to 12 months.
The installer will contact the client or general contractor about a month before the projected completion date to establish contact with the necessary parties. The following will be established at this initial contact:
Introductions between the installers and the general contractor or other personnel involved in the installation process.
Make an appointment to come out and assess the job site or facility.
Agree on a timeframe for installation. Please keep in mind that this is a continuous process, and the date may vary as a result of production schedules or construction delays.
Set up a weekly status call to check on the project's progress. This helps maintain an open communication channel so that any concerns or obstacles that may affect the installation timeline may be handled.
Before installing an overhead crane, the installer will need to acquire their bearings, understand the layout, and identify any potential risks or impediments at the prospective structure or working site. They'll think about and analyze the following items while they're on the job:
The scope of the project
Area for installation
Determine any potential dangers.
Details for existing runways or new runways under development
Also Read:
Evaluate the Scope of Work
The installer will receive a copy of the purchase order once you've signed an agreement to buy an overhead crane. Your overhead crane installer will call you after receiving the purchase order and set up a time to visit the project site and speak with your team. A Maintenance Supervisor or Plant Manager for an installation at an existing plant, or a General Contractor for a new construction site, usually attends this conference.
Installers should look at any signed permission drawings and building prints to get a sense of the space they'll be operating in, as well as the span and length of the runway structure that the overhead crane will be using.
They'll also start developing a list of the equipment and materials that will be required for installation. This can include things like:
Semi-trucks, trailers, and flatbeds are all examples of commercial vehicles.
Generators and mobile installation cranes to hoist the bridge and runway beams
Scissor lifts are a type of lift that uses a pair of scissors.
Personal fall prevention and other personal safety items are available (PPE)
The crane installer also needs to figure out how to gain entry to the building to bring in their tools and materials. Because the cranes will be put into flatbed trailers and carried onto the site, they will require open and unobstructed access for vehicles, mobile cranes, and workers to move freely in and out of the facility.
The installer will want a clear image of the overhead crane installation timeframe when working with the facility's General Contractor or Production team. They'll need to know if any production or construction concerns could cause the crane installation to be delayed.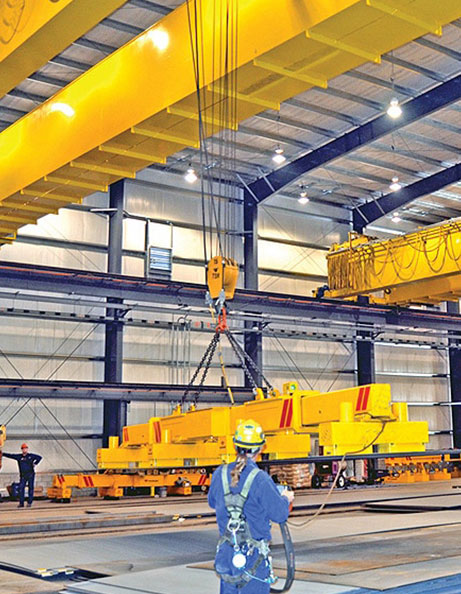 Review the Area Where the Overhead Crane Will Be Installed
The overhead crane installers will spend a significant portion of their site visit examining the region where the crane will be positioned. On a new construction project, they'll begin roping off the area to give the General Contractor an idea of how much space they'll need to clear during the crane installation.
The crane installers will also identify any equipment or machinery that has to be moved out of the way so that their trucks and equipment can enter the facility's grounds, set up a staging area, and have clear ground access.
The installers seek to speak with as many subcontractors as possible during this site visit to better understand the construction timeline and any other work that may be going on around them during the installation. They'll have to think about the time and availability of other products, such as:
Installation of electric and gas lines
Performing concrete or other masonry work
Fixtures for the ceiling
Roofing and ductwork
Plumbing system
When a crane is installed into an existing structure, the area will be roped off or marked for the installation. Other subcontractors typically paint or label load ratings on the floor and structural supports to identify them once all of the equipment and vehicles arrive.
The crane installer also takes note of any challenges they may encounter and photographs the building layout to communicate with their team to devise an action plan.
These are some of the potential roadblocks:
Understanding the load requirements for bringing in heavy-duty equipment and vehicles and identifying the type of flooring (concrete, mud, etc.).
Identifying load requirements for existing runway structural support beams
What equipment or machinery will be in use during the installation, and how many personnel, if any, will be working in the vicinity?
Identify Potential Hazards
The overhead crane installation team must identify any potential hazards to plan and prepare their crew accordingly. To ensure that the crane installation is done correctly, different dangers may necessitate specialized protection (PPE) for their team, special licenses, and other unique considerations.
Before installing an overhead crane, an overhead crane installer will look for the following categories of hazards:
Overhead electrical or gas lines, power/conductor bars, lighting fixtures, and other energy sources
Forklifts, man lifts, trucks and semis, personal automobiles, pedestrian walking trails, foot traffic, and other sources of traffic
Excessive heat, heated metals, toxins, and other environmental factors are all factors to consider.
Working at a height – anything higher than 4 feet, ladders, and scaffolding – necessitates the use of fall protection.
Identify any hazardous energy equipment that requires lock-out/tag-out by OSHA 1910.147.
Any other risks discovered by the customer or installer
Commit to the Crane Installation Date
As the crane installation date approaches, phone calls and interactions with the installers will become increasingly frequent, potentially even daily. Everyone will want to be on the same page so that any scheduling, staffing, or production changes can be communicated and the crane installation time frame may be adjusted.
When you get within a certain amount of time before the intended installation date, everything goes into high gear to arrange the logistics, transportation, and scheduling of people, materials, and equipment.
Some overhead crane manufacturers require 30 days' notice for any modifications to the intended install date, while others may demand seven days' notice. Make sure you understand what the "point of no return" for your overhead crane installation is. Once the procedure starts, there's no stopping it because the crane and installation equipment are most likely on their way to your location.
Load-Test Your Newly Installed Crane System
After the crane has been erected and the crane installation process is complete, it will need to be started up and load-tested to ensure that everything is working correctly. A third-party testing organization may be hired to do the test and ensure that the crane will function safely and efficiently.
Before first use, your new crane system must pass two operational tests and a rated load test, as required by OSHA 1910.179 Overhead & Gantry Cranes Regulations:
Up and-down hoist operation, trolley travel, bridge travel, limit switches, and locking and safety devices are all tested.
The trip setting of the hoist limit switches is tested to ensure that the limit switch's actuation mechanism is working correctly.
Load test the crane at no more than 125 percent of its rated load and store the test results safely.
Technomax has an established track record of associating with some of the industry's most prestigious names, with over 15 years of expertise. Their on-time, cost-effective, and transparent services are just a few of the compelling reasons to work with them. When it comes to Industrial Crane Installation in UAE and other services like Maintenance, Condition Monitoring, Machinery Diagnostic Services, Distribution of Electrical, Mechanical, and Instrumentation Products, and Stocking and Supply of Maintenance, Repair, and Operation Spare Parts, Technomax is the name to remember.
Their skilled and devoted team works tirelessly to attain perfection to provide best-in-class products and crane installation in UAE and other crane-related services.
How to prepare for your overhead crane installation
overhead crane installation: For enterprises that need to move heavy or bulky cargo, overhead cranes are invaluable instruments. Using a crane lift to transport objects saves important ground space and makes life easier and safer for personnel.
Overhead cranes, on the other hand, do not appear out of nowhere. It requires time and effort. But don't worry; if you follow our advice and prepare for the big day, everything will go smoothly during your crane installation.
Preparing for an overhead crane installation necessitates some forethought to ensure that everything goes appropriately on installation day.
Here's how you and your employees can be ready for an overhead crane installation, from selecting the correct crane to determining which crane will perform best in your workspace.
What to Know First Before going for a Crane installation service:
To select the appropriate equipment for your application, you need first to analyze your company's demands for an overhead crane before beginning the crane installation process.
Before you do crane installation, you should know the answers to the following questions:
In which direction will the crane be moving? (up or down, left or right, forward or back)
How often will the crane be used?
How will the crane be supported?
How high do you need to hoist using the crane?
What is the distance between the floor and the ceiling's lowest point?
The answers to these questions will assist you in selecting the right crane for your facility and ensuring a flawless crane installation.
Which Crane is Right for My Workspace?
Contact a skilled structural engineer to find out if your facility's support structure can accommodate the overhead crane you plan to buy.
Choose a crane that will work for your company's rising demands and future undertakings, rather than one that will only operate for current projects.
Which Crane Should I Choose?
Technomax offers a variety of overhead cranes, each with its own set of benefits. Each style of crane, from workstation bridge cranes to jib cranes to gantry cranes, can provide a versatile and cost-effective lifting and loading solution.
How Long Will It Take?
Your overhead crane installation could take anywhere from 3 to 5 hours to several days, depending on the type of crane and your facilities.
For an overhead crane installation, use an expert. Get their feedback right away when you select the right crane and installation location, but don't stop there. To ensure correct crane installation, find a certified technician who can examine the crane's operational components. To verify that your rig is safe, OSHA demands two distinct operational tests as well as a load test.
Make sure you stay up with planned maintenance and additional inspections even after this initial check. You can keep your overhead crane well-maintained and in compliance with industry requirements by working with the professionals at Technomax.
Make Time for a Safe Job
While some crane installations can be completed in a matter of days, others can take weeks. Take the time to prepare your building and staff for the installation process, as well as clear the crane installation space. This could involve machinery and moving equipment. Ensure that no personnel must be present during the crane installation process, other than those working on the crane installation.
Involve Your Employees
Employees must be informed about the process and how it may affect them. We suggest devoting some time to ensuring that your personnel is well-versed in the operation and maintenance of your overhead crane. This will not only protect them from harm that could have been avoided, but it will also extend the life of the equipment.
Keep Communication Lines Open
It is critical that you keep in touch with your selected installer at all times while you prepare for crane installation. You never know when a problem will develop or when you will require answers to new questions. Constant communication will guarantee that the job is completed in a safe and satisfactory manner.
Simplify the Installation Process with T&M Cranes
Technomax has an established track record of associating with some of the industry's most prestigious names. Their on-time, cost-effective, and transparent services are just a few of the compelling reasons to work with them.
When it comes to Industrial Crane Installation in UAE and other services like Maintenance, Condition Monitoring, Machinery Diagnostic Services, Distribution of Electrical, Mechanical, and Instrumentation Products, and Stocking and Supply of Maintenance, Repair, and Operation Spare Parts, Technomax is the name to remember.
Their skilled and devoted team works tirelessly to attain perfection to provide best-in-class products and crane installation in UAE and other crane-related services. Technomax is pleased to provide their mechanical, structural, and electrical knowledge to help you with your crane installation.
They offer professional specialists, a wide range of expert services, and high-quality bespoke or component-built cranes. You can count on them because they have over 15 years of experience in the overhead crane sector.
They place a strong emphasis on customer service, so you can trust them to meet your needs and surpass your expectations. They can assist you with everything you require!
---