Crane Inspection: Why And How Often Should We Do It?
---
Not only cranes are of multiple types, but each of the types (be it an EOT crane, single girder crane, semi-goliath crane, etc) comes with their set of inspection guidelines too. The answer to why crane inspection is required is very obvious but still, just to set the context, let us have a look at it in the section below:
What is the need for Crane Inspection?
There are some of the basic requirements of OSHA 1910.179 crane inspection standards and compliance requirements. These are required for the prevention of workplace injuries and losses that may be caused due to cranes. OSHA requires that all active cranes be annually inspected and for all the organizations to follow proper crane operation safety measures and tips.
And in all honesty, it is not any regulation that is being forced upon you. Daily or weekly usage wears important crane components significantly. This wear can lead to the breakdown of the crane (sometimes even mid-operation too leading to dastardly consequences) and ultimately hinders the process. Routine inspection can help identify potential problems and address them before a costly or irreversible incident happens.
Also Read:
How often should one get the crane inspected?
Inspection must be done by a qualified and trained inspector as per the Crane Manufacturers Association of America (CMAA), who has at least 2000 field hours of experience directly related to maintenance, repairing, modifying, and functional testing of cranes and the hoisting equipment.
4 Categories for Crane Inspections
According to the American National Standards Institute (ANSI), there are four categories for overhead crane inspections: Initial, Function, Frequent, and Periodic. Let us discuss them in brief one by one: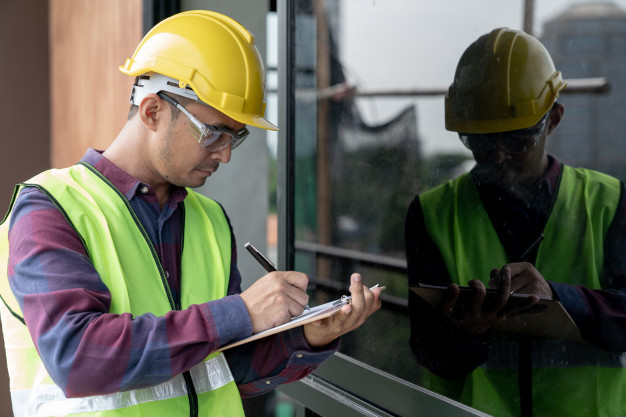 Initial Inspection
As per OSHA 1910.179, all new and altered cranes shall be initially inspected to ensure compliance with the provisions of this section. The initial inspection is a documented visual inspection and is required after installing new cranes or hoists and equipment that has been reinstalled after alteration, modification, or repair.
Functional Test Inspection
Before every shift, the functionality of the cranes or hoists must be inspected or tested. According to OSHA, it is needed to visually test them on a daily basis. Like functional operating mechanisms, leakages in lines, tanks, valves, drains, testing of hoist chains including connections, hooks with deformation and cracks, rope reeving for non-compliance, and so on.
Frequent Inspection
Frequent Inspection includes all aspects of the Functional test Inspections, in addition to checking the operating mechanism. The frequency of inspections depends on the crane's usage. For example, a crane that operates under normal service should be inspected monthly, a crane under heavy service should be inspected weekly to monthly basis, and a crane in severe service must be inspected daily to weekly basis. Always remember to be updated in the documentation, as it also shows the proactiveness of your facility's safety, which can work in your favour.
Periodic Inspection
Like the frequent inspection, the frequency of the periodic inspection also depends on the usage of the cranes. For periodic inspection, cranes that are used for normal service and heavy service should be inspected yearly. Cranes in severe service are inspected on a quarterly basis.
Conclusion:
According to OSHA, cranes that have not been used for more than a month but have been used within the last six months should have their periodic inspection and functional test inspection done prior to their next use. Additional inspections may be required based on the wear and tear and frequency of usage.
At Technomax, we provide expert and reliable installation, maintenance, and upgradation services for all the possible crane types. In addition to this, we also provide services for the commissioning of EOT cranes, polar cranes, control panel assembly and upgradation, rope guide supply, and wire rope supply installations. We have a dedicated team of technicians, erectors, welders, and highly skilled and experienced engineers who can assist you with the crane installation, maintenance, and inspection at your facility in record time.
When you use the proper inspection and maintenance frequency for your overhead cranes and hoists, you can increase operational efficiency, lower overall repair costs, and improve equipment safety.
The big question is: How do you determine crane inspection frequency?
Every business must prioritise worker safety, so it is essential to determine Crane Inspection Frequency, also the minimum frequency of inspections must ensure that equipment conditions are checked frequently enough to ensure safety. Beyond worker protection, if the cranes are always secured, you reduce contractor liability and future enforcement issues.
The value of equipment maintenance costs and efficiency varies from one company to the next. Out-of-operation crane equipment will cost some companies tens of thousands of dollars per hour in lost production time, while it is just a small inconvenience for others. Inspections that detect flaws and allow for planned repairs will save money in a 'production-critical' company by reducing or eliminating crane-related unplanned downtime. Hence, it is very important to determine crane inspection frequency.
A good crane and hoist inspection program begins with well-trained and certified inspectors spending enough time inspecting all of the equipment components that may be defective and lead to a potential safety incident or unplanned breakdown.
When determining crane inspection frequency, great inspectors aren't enough; you also need to put in place a 'Frequent' and 'Periodic' inspection schedule that is frequent enough to spot issues before they become a safety or production issue. As a result, it's important to know the facility's equipment and the factors that influence the need for more or less regular maintenance.
Those factors are:
The equipment's proclivity to break: This aspect is strongly affected by the equipment's age, maintenance history, and current condition.
Grabs or lifters are used. These cranes are constantly loaded and subjected to wear.
The frequency of use: Equipment that is used constantly for three shifts a day can be subjected to much more wear and tear. Cranes that are lifting at or near capacity are putting in more effort.
Equipment in a hostile climate, such as one with extreme heat, moisture, cold, dust, or chemical contamination, will experience increased stress and corrosion of structural, mechanical, and electrical components.
Operator training: Inadequately trained operators are more likely to jog the motion and violate conservative operating procedures, putting more stress on the machinery.
One of the best ways to determine the efficacy of crane inspection frequency is to look at the number and magnitude of protection and operational flaws that appear between the previous 'Periodic' crane inspection and the most recent. Suppose your cranes each have more than two or more within a given period. In that case, we suggest shortening the 'Periodic' inspection cycle so that you only have one newly discovered severe deficiency on average in the interim.
Read more about Laser Shaft Alignment
Examine the crane and hoist operation manuals and make a note of the recommended service and repair cycles. For both protection and liability reasons, never raise the intervals beyond what the manufacturer specifies.
In order to check the state of mechanical, electrical, and structural components of the crane and hoist during a Periodic Inspection, the Inspector must use a lift or the crane walkway to gain access to the equipment. Control panels are opened, and mechanical components such as drums, wheels, sheaves, and couplings are inspected for wear, breaks are adjusted, and gearboxes are tested for oil level.
The advantage of adequate crane and hoist inspections is that the expense is minimal as compared to the benefits of improved protection and reduced unplanned downtime costs. As a result, more is better. According to our research, businesses that conduct 'Periodic' checks and hence have an efficient crane inspection frequency on a monthly basis have the fewest safety issues and breakdowns. Read more about the importance of condition monitoring.
---