Laser Shaft Alignment Services UAE- An Overview
---
Introduction to Laser Shaft Alignment
The vibration noise of the machines and equipment becomes a common occurrence if adequate maintenance is not done. Now, it will not be like a loudspeaker blaring but it would be enough to wear and tear the machine as well as negatively impact the employee working on it.
Therefore, it is required to maintain the standards of vibrations and noise of the machines and the equipment. Thus, timely monitoring, repair, sanitation, special maintenance is required at every stage.
It has been found that in most cases, the vibration noise results from a shaft misalignment. The solution is thus obvious too- Shaft alignment. Now, Shaft alignment (also known as coupling alignment) is essentially a process to make two or more rotating shafts co-liner i.e. their centers should fall in the same straight line. It can be done using several tools such as straightedges, dial indicators, calipers, optics or laser systems. Out of all these, Laser Shaft Alignment has been found to be the fastest and the most accurate too.
You may also like to read:
What exactly is Laser Shaft Alignment?
Laser Shaft Alignment is a way of measuring the misalignment between two or more shafts.
The ideal tool for Laser Shaft Alignment is the Fluke 830 Laser Shaft Alignment tool.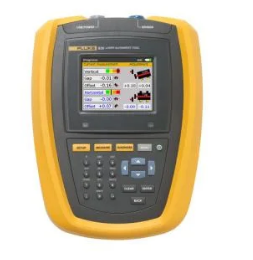 It is simple and advanced and can be used in potentially explosive environments too. It is important to note here that it isn't just about regular maintenance. What puts it into perspective better is the fact that the incorrectly aligned shafts and the consequences of the same are behind more than 50 percent of all malfunctions in rotating machines. This automatically increases the downtime, increase in maintenance costs, and production losses. In addition, the incorrect alignment of the shafts increases the vibrations and friction, which can increase energy consumption and cause premature bearing and seal damage. It is the process to know the machine from any angle and side.
List of Laser Shaft Alignment systems
Some of the most commonly used laser shaft alignment systems are listed below:
E420- Line laser
Compare Products E series
Compare Products XT series
Accessories
How to select a Laser Shaft Alignment system?
Before buying a laser shaft alignment system keep in mind the requirements. Identify them and make a list out of it. This is very much necessary because buying a system that contains all the features (that you may not require) can be costly.
Also, make sure that the technician has all the required skills to operate the system once installed as this may lead to a further increase in the cost in the form of training expenses.
Benefits of Timely Laser Shaft Alignment
Increased machine availability
Low production losses
Saves time, extra exercise, and cost
The increased service life of bearings and seals
Less leakage and better working environment
Less risk of overheating and secondary damage
Less lubricant consumption
Less vibration
Reduced noise level
Less risk of serious breakdowns
More significant overall savings with fewer spare parts, lower energy consumption, and less unscheduled downtime.
Conclusion
Laser Shaft Alignment is an effective technique used during the installation and maintenance of rotating machines. A high precision Laser Shaft Alignment tool along with a dual-position sensing detector is used to replace the traditional and old manual way to make the measurement easier and accurate. In the system, the range of offset measurement is ±4 mm, and the resolution is 1.5 μm, with accuracy being less than 2 μm. The process requires unique and high=precision measurement instruments with calculation capability, and that too depends on heavy, high-speed, or high-temperature machines
---