Single girder vs. Double girder crane
---
Table of Contents
Introduction
What is a Single Girder Crane?
Benefits of Single Girder Crane
What is a Double Girder Crane?
Benefits of Double Girder Crane
Single girder vs. Double girder crane
Conclusion
Introduction
Cranes are primarily used for lifting and lowering. You've probably seen cranes at construction sites or in factories. There are also some other locations, such as warehouses, where cranes are required. A crane's primary function is lifting or lowering heavy loads that other machines are incapable of lifting. Cranes help transport hefty loads from one location to another. A crane is vast and has a complicated structure. A crane also contains various individual industrial power tools, such as hoists, chains, wire ropes, sheaves, and so on. The crane's work is completed by the combined efforts of all of the individual tools. Here we will be discussing the two types of EOT cranes primarily- single girder crane and double girder crane. Before you can choose between a single girder crane and a double girder crane, you must first understand what they are. Even if you're entirely unfamiliar with bridge cranes, this guide will explain what they are and which ones are best for your needs. Read on to know more about single girder vs double girder crane
What is a Single Girder Crane?
The bridge comprises one girder beam supported on each side by an end truck on a single girder crane. Most trolleys and hoists are underhung, which means they run on the bridge's bottom flange. The bridge's construction will be either top-running or under-running. A single girder crane, if properly designed, can be the ideal solution for a company that requires a light to medium duty crane or for a facility with limited headroom and floor space. For various applications and industries, single girder bridge cranes are often the most cost-effective lifting solution. Single girder cranes use less material, are more compact, and are lighter than double girder cranes, resulting in considerable material, freight, and installation cost savings. Read more about - Laser Shaft Alignment
Benefits of Single Girder Crane
The following are some of the advantages of single girder cranes.
Because of a simpler trolley design, lower freight costs, more accessible and quicker installation, and less material for the bridge and runway beams, it is less costly.
For light to medium-duty cranes, this is the most cost-effective choice.
Because of the lower deadweight, there are fewer loads on the building structure and foundations. In many cases, the existing roof structure will support it without the need for additional support columns.
For both trolley and bridge travel, a better hook approach is needed.
Installation, service, and maintenance are all made easier.
Workshops, warehouses, material yards, and manufacturing and production facilities are all good candidates.
What is a Double Girder Crane?
On a double girder crane, the bridge is made up of two girder beams supported by an end truck on each side. The trolley and hoist are usually mounted on a rail that runs along the bridge girders' top. When the hoist is placed between or on top of the cross girders in a double girder design, you gain the depth of the cross girder, giving you an extra 18"-36" of hook height in most cases. Top-running or under-running double-girder cranes are available. The most overhead room and hook height can be found with a top running double girder bridge crane. Cranes with two girders are recommended for heavy-duty applications requiring higher capacities and longer spans. Bridge cranes with double girders are ideal for lifting heavy loads and can be used more frequently than single girder cranes. They are commonly used in mining, iron and steel manufacture, railyards, and shipping ports and can be used both indoors and outdoors in a bridge or gantry configuration.
Benefits of Double Girder Cranes
The benefits of double girder cranes include-
Greater hook height – how high the hoist can lift the hook above the floor (typically 18-36" higher than a single girder).
There are no limitations to the maximum span or capacity, making it ideal for heavy equipment production and transportation.
Ideal for lifting heavy loads regularly.
A double girder design will support additional features such as walkways and maintenance platforms, cabs, magnetic reels, and lighting.
Mining, iron and steel, railyards, and ports are just a few examples of indoor and outdoor applications.
Single girder vs. Double girder crane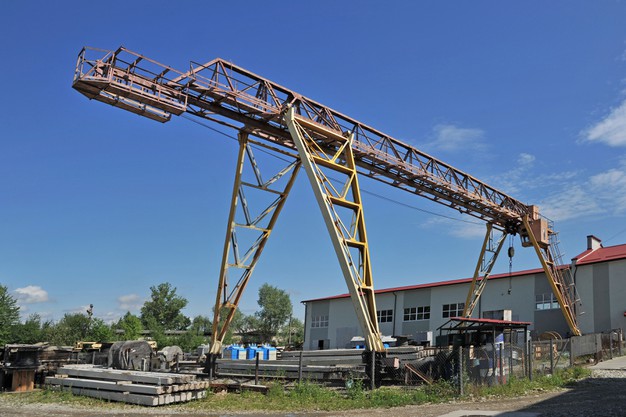 The difference between the single girder crane and double girder crane is based on two criteria- structural differences and functional differences.
The difference based on structural differences
Within the entire structure of a single girder EOT crane, there is only one girder. A double girder, on the other hand, has two girders. What exactly are girders? In layman's terms, girders are the metal beams that connect the side travelling mechanisms.
An electrical hoist travels on the lower flange of the sole and main girders in a single girder. There is no hoist on the double girder crane. Instead, it uses a crab-shaped mechanism that travels across both girders.
A single girder For part maintenance, EOT cranes, do not require separate cross-travelling rails and platforms. The others, on the other hand, are required to meet these criteria.
In single girder cranes, you won't be able to find continuous platforms. There are three platforms in total, two small ones around the motor and one for panel maintenance. Along with the crab-shaped structure, a double girder machine has a continuous platform and a different platform.
Factory technicians and repairers do not have set schedules. They are required to work at night on occasion. In these situations, double girder machines are preferable because they include under bridge lights, which reduce the risk of accidents. EOT cranes with a single girder do not have this feature.
These cranes' engines and gearboxes also vary significantly. Flange-mounted engines and modular gearboxes are standard on single-girder cranes. Double girder cranes, on the other hand, often include foot-mounted engines and horizontal gearboxes.
The difference based on functional differences
To monitor a single girder crane, you can use the pendent and radio remote system. However, you won't be able to do so because you don't have access to the operating cabin. In the case of a double girder EOT crane, all three options are available.
A single girder crane can only give you a DC disc brake to stop the function. However, in a double girder, you can get the DCdisk brake and EHT brake combination with no brake-use restriction.
A single girder crane's operators can control the hoist's up-and-down movement using a snap action limit switch. A wire rope guide activates the switch's function. A geared rotary limit switch on a double girder crane allows you to control the crane. That system is capable of determining the hook's movement and limiting the up-and-down movement.
The functional area's maximum span and lifting capacity are also different. A single girder crane's maximum functional area is around 30 metres. It can lift a load of up to ten tonnes at a time. A double girder crane has a much larger functional area and lifting capacity than a single girder crane. You can lift and move weights of up to 500 tonnes with a double girder crane.
Single girder cranes are typically used for lighter loads and can handle common materials. On the other hand, a double girder crane can be used for any application and can take any type of material.
The wheel load of a single girder crane is much lower due to its lighter weight. The small gantry girder accommodates the crane's size. The gantry girder size is undoubtedly larger due to the heavier weight of a double girder crane.
The cost of a double girder crane is slightly higher than that of a single girder crane. The price rises as the weight-bearing capacity and size increase. On the other hand, double girder cranes are more manageable and less expensive to maintain than single girder cranes.
Conclusion
The design of your overhead crane system should be given careful thought. A double girder crane would benefit from a high capacity, wide span, or high lifting height, but it will cost you more money upfront. Lighter duty cranes with no hook height requirements, abnormal capacities or spans can be a cost-effective choice for improving the efficiency and safety of your manufacturing or assembly facility.
---